"Echinodermatter" by Joe MacGown
2009, Rapidograph pen on cold press illustration board (20 X 20 inches). Yeah, this drawing took a while for sure! This drawing will be a part of Energy Art Movement International Group Exhibition at Sunrise Gallery in Hamilton, Ontario, CANADA from 2009, 11 July - August.

This drawing was included in "Imagine the Imagination: New Visions of Surrealism" published by NEgoist Publishing Co., Poland. The book includes works by 100 artists from around the world.
Framed Original - $5,000 plus shipping
I have prints of this drawing available for sale at Fine Arts America and posters on my zazzle web site. Click the image below for zazzle purchase information.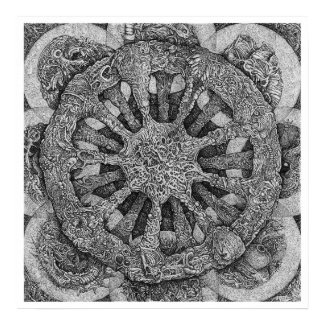 Echinidermatter
by
JoeMacGown
Other poster designs
On
zazzle.com
Browse other
Fine Art Posters