"Zabulation" by Joe MacGown
2009, Watercolor and rapidograph pen on illustration board (21 X 29 inches). Watercolor first, then ink.
This painting won first place in drawing/painting division at the Cotton District Arts Festival Juried Art Competition, in Starkville, MS on 2009, 18 April 2009!
I was a primary finalist in the international online Energy Art Salon Competition 2009! As a result of this, my entry "Zabulation" was included in the annual Energy Art Salon Exhibition at Murphy Hill Gallery located on the third floor of the historic Sears & Roebuck Bldg. at 3333 W Arthington St. Chicago, Illinois (http://www.murphyhillgallery.com/). The exhibit runs from January 15th through February 25, 2010 with an opening reception on January 16th from 6 PM to 11 PM.
Framed Original - $8,000 plus shipping
I have prints of this drawing for sale at Fine Art America and on my zazzle web site. Click the image below for zazzle purchase information.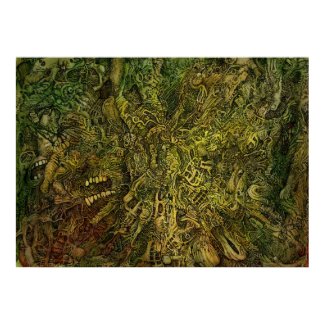 Zabulation
by
JoeMacGown
See poster designs
From
www.zazzle.com
View other
Painting Posters